The Caribou Rock trail is an out and back trail from Hungry Jack road off of the Gunflint Trail to Rose Falls at the end. I would consider this to be one of, if not the most difficult hikes I've had. Certainly the hardest I've done in Minnesota.
I've seen a lot of different mileage estimates for this trail, I think largely due to people considering this an in and out type hike. Myself I planned on taking it to the Border Route Trail and then going East and West from there to further explore.
This trail is a whole lot of ups and downs over incredibly rocky and rooty terrain. You really need to watch your steps on this trail, and there will be portions where you're scrambling or going straight up and down rocky sections.
That weird looking straw is called a JoGo. My wife bought me one for Christmas and I thought I'd try it out on this trip. Basically it has a fine mesh filter on one end and a silicone tip at the other. You just dump your coffee grounds into your cup and then drink them straight from this straw. It worked really well! Was super simple to use, and I didnt have to mess around with any filters or anything. Just dumped the grounds in my garbage bag to pack and out and moved on. Will definitely use it again, though I need to find a mug with a lid that has a big enough opening to get the straw through so I can use it in colder temps and keep it warm.
The reward at the end of the trail for all of the hiking is Rose Falls!
After visiting the falls I hopped on the Border Route Trail and headed East.
Its pretty much all up hill on the BRT from Rose Falls but you get some great views along the way.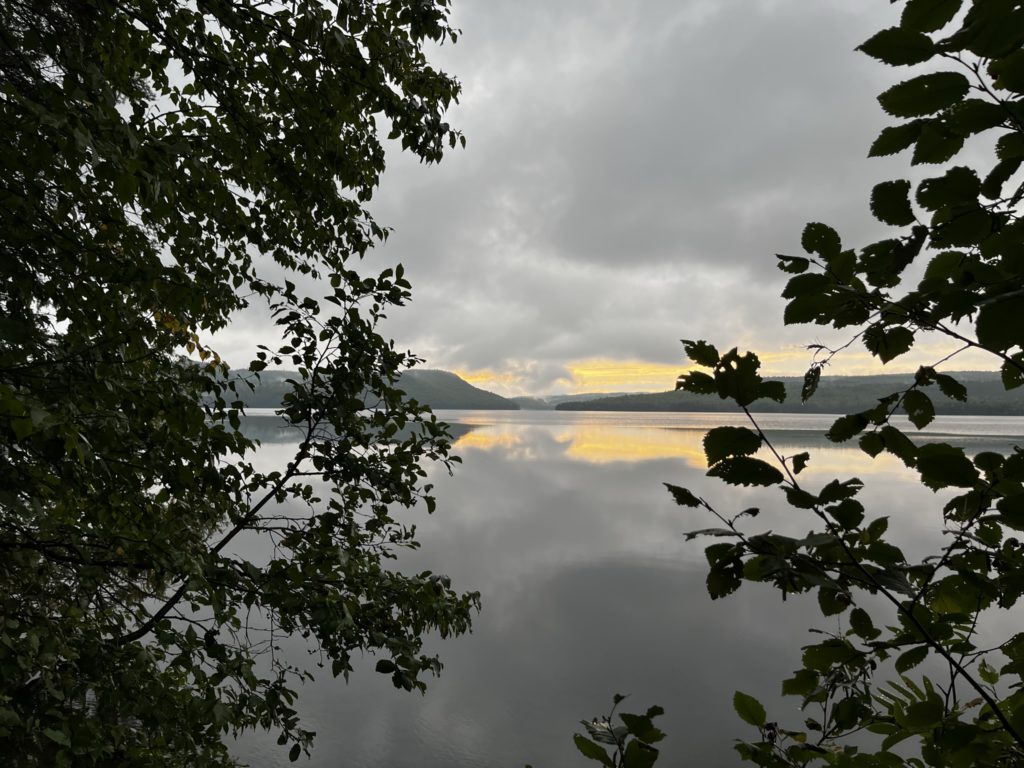 I made it to my campsite at Rose Lake early and got setup right away as the forecast called for rain. Got some great views of the lake while I was there.
Did I mention that it rained? It rained hard and all night. It was raining hard enough that I was actually getting splashback from the ground onto my down underquilt. I was worried that it would wet out and that I'd be in for a cold night so I managed to rig myself an underquilt protector using my cheap ALLCAPS amazon brand poncho.
Unfortunately somehow someway, my Warbonnet MiniFly tarp ripped in the night! I have no idea how it happened, I dont think it was stretched out, dont recall it getting snagged anywhere or tripping over any guylines. Going to see if I can repair it somehow.
Since it rained so much I knew it was going to be a wet hike back out. Thankfully I had my poncho and a pack cover on me. I also really had to focus on the trail, everything was wet and slippery and it was easy to step on a wet tree root and slip.
Random thoughts:
Listed above but the JoGo straw worked great! Will definitely use it on more trips when its not to cold out.
Was very happy to have my rain poncho on this trip, and I'll keep singing its praises over rain jackets.
The second night I setup my hammock and heard a big crack towards the end of the night. While I always check the trees I'm hanging on our alive, I never really considered how sturdy it was. In this case it was more than big enough but it was WAY to wobbly. I could wobble it a good 2-3 inches by pushing on it. I quickly moved after that.
I brought my fishing pole, but all the lakes I came by were pretty shallow in the beginning and I wouldve caught nothing but snags. Will leave that next time unless I am canoeing.
I got some special Beckett Hitch continuous loops for my hammock and they worked awesome with straps for the Beckett Hitch. Will be my go to suspension for now moving forward.
I had the PackIt Gourment West Memphis Grits for breakfast one morning and they were delicious! Will definitely buy again.
I was really happy that I brought along Gatorade packets and these little Frog Fuel protein packets. I definitely didnt feel as sore and tired along the trail as I would've expected. Seemed like it made a big difference.
The mice on this trail were fearless. Definitely hang your food or have some sort of protection against them.
Man oh man did I hate the pack I used for this trip. An old Granite Gear Leopard thats supposed to be a winter pack. It didnt carry well, had a ton of annoying straps, and the hipbelt never felt comfortable. Ditching this thing as soon as I can.
I didnt time myself on the way in, but it took me 3 hours to go from Rose Falls back to the trailhead. That was with me never making any major long stops, though I did loose the trail for about 10 minutes at one point.