I recently purchased an old Granite Gear Leopard AC 46 pack for $50 to use as a new winter pack. The pack I had been using was an old 75 liter Dueter pack which while extremely comfortable, and plenty roomy, was nearly 7 pounds on its own. Snowshoeing or skiing with a heavy pack on is exhausting so any chance to shed weight is worth taking.
Here is what the pack looks like stock.
The thing that intrigued me about this was that it was a medium volume pack but had a ton of tie off points on the outside for bulky winter gear. That front panel can be extended and you can shove a snow shovel, crampons, your tent, etc and it'll secure it all between the panel and main pack body. The top lid floats as well so you can stuff a ton of bulky stuff in the pack and make it all fit.
This picture shows how the front panel works.
Stock the pack is supposed to be able to carry up to 35 pounds with the internal frame. At one point in time they sold an inflatable "Air Vapor" frame that could be used as a sit pad and slid into the back. I looked around and wasn't able to find a used one anywhere, and they appear to be hard to come by. My winter loads for a multi-day trip are usually around 40 pounds with food, fuel, etc so I wanted to stiffen up the suspension if possible.
Gossamer Gear sells a sit pad that they advertise as working as a back frame in some of their packs. I cut it down to size and was able to fit in along side the thin plastic frame that comes with the pack.
I also added a hipbelt pocket and bungee cord to the top of the pack from Mountain Laurel Designs. I cut the zippers off the hipbelt pocket and tied on some pull cords. Less rattling from zippers that way.
So after all of that here is the pack all loaded up.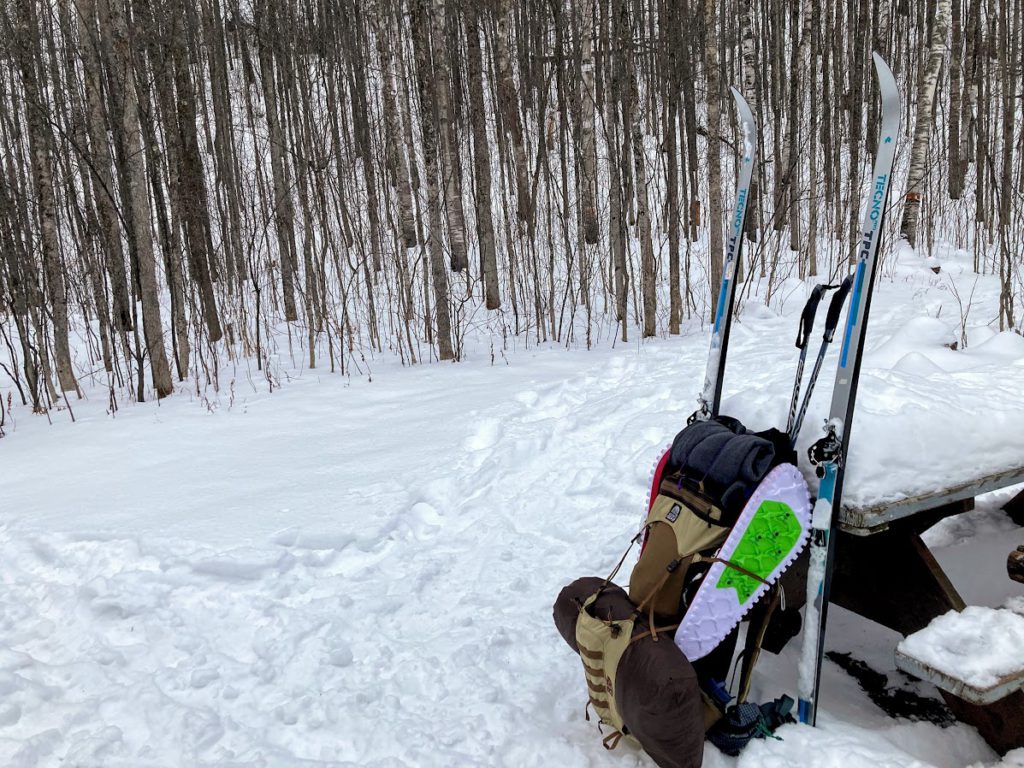 The pack performed really well on my trip. I fell a lot skiing with a pack on for the first time but everything stayed in place and it was pretty comfortable. Next time I'll probably figure out a weigh to fit my snow shovel in or do something different with my tent but overall I was very happy with how it carried on this trip. For about $80 all together I was able to go from a 7 pound pack to a 3 pound pack that performs just about the same.